"Are you ready to open the gates of Hell?!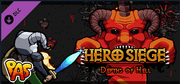 Step into the Highlands of Tarethiel as the Fallen Paladin and find your way to Satan and take him out before his minions destroy the kingdom!"
The Depths of Hell is the second DLC to Hero Siege. If you pay a bit more, you can get the Digital Collector's Edition, which adds some extra (cosmetic) features (and still includes everything from the normal version. 
You must own Karp of Doom (Act 5) to get access to The Holy Grounds
Features
Edit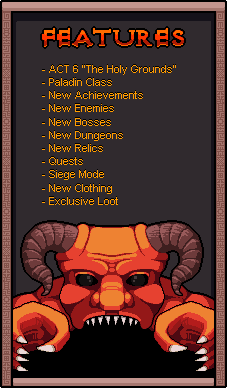 - Act 6 (The Holy Grounds, requires Karp of Doom to get there)
- Fallen Paladin Class
- New Achievements
- New Enemies
- New Bosses
- New Dungeons
- New Relics
- Quests
- New Clothing
- Exclusive Loot
Collector's Extras
Edit
- Exclusive Fallen Paladin Skin
- Silver Name Color
- Damien's Head Ranged Minion Skin
Ad blocker interference detected!
Wikia is a free-to-use site that makes money from advertising. We have a modified experience for viewers using ad blockers

Wikia is not accessible if you've made further modifications. Remove the custom ad blocker rule(s) and the page will load as expected.