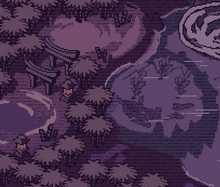 The fifth act of Hero Siege. The main boss of this act is The King Karp. Included in the Karp of Doom DLC.
Mt. Fuji
Misty Swamp
Fuji Coast
Sea of Karponia
Temple of Zamjo
Karp King's Temple
Karp King's Throne
Enemies & Bosses
Edit
Enemies:
Edit
for Detail see Monsters page
Samurai
Stumps
Karp
Ranged Skeleton
Golem
Pirahna
Nautilius
Ice Elemental
Horrors
Bees
Ad blocker interference detected!
Wikia is a free-to-use site that makes money from advertising. We have a modified experience for viewers using ad blockers

Wikia is not accessible if you've made further modifications. Remove the custom ad blocker rule(s) and the page will load as expected.